Cheyenne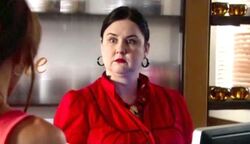 Origin
Lakeview, New York, USA
Someone got killed on his block. Dragged down the street, on fire. Isn't that terrible?
Cheyenne, talking about Carter's death.
Cheyenne is a receptionist in Salon Dante. She and Samantha's two sons witnesses her death.
The Final Destination
As Samantha was leaving the parlor after her hair was done (and after almost being hit by a dislodged falling ceiling fan) Samantha says sorry about her sons's behavior and that she will shift them to college when they turn teenagers so they will be out of her sight, Cheyenne suggest her sending them to military school and Samantha considers the idea. As Samantha goes to the door, she commands her sons to come, and quickly she adds that she's got an eye on them. She then turns around, just as a rock, which was thrown from a lawn mower, suddenly flies out right through her eye and out the back side of her head. Cheyenne and Samantha's two sons start screaming in horror as Samantha falls on the floor and dies. According to the newspaper that reported Samantha's death, the witnesses were receiving counseling after the incident, so it can be assured that Cheyenne was one of them.
Ad blocker interference detected!
Wikia is a free-to-use site that makes money from advertising. We have a modified experience for viewers using ad blockers

Wikia is not accessible if you've made further modifications. Remove the custom ad blocker rule(s) and the page will load as expected.