Edward Lane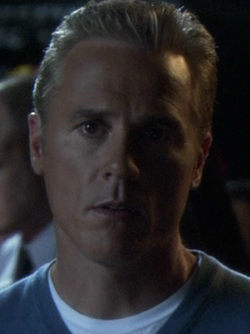 You knew? How did you know it was gonna happen?.
Edward, questioning Nick on how he knew the accident was going to happen.
Edward Lane is the husband of Samantha Lane and the father of Ryan Lane and Daniel Lane.
Biography
Edward is the Irish accent, we was resided in Lakeview, New York. He is quite and very caring towards his family. Edward lived with his wife and his two sons. He attends the McKinley Speedway along with his family to watch the race.
The Final Destination

In
Nick
's premonition, he and his two boys survived the disaster at the McKinley Speedway but his wife died.
Later on, Edward and Samantha meet with Nick and Lori at the local memorial where they say if it wasn't for Nick, the Lane family wouldn't be alive.