Flight 180 male flight attendant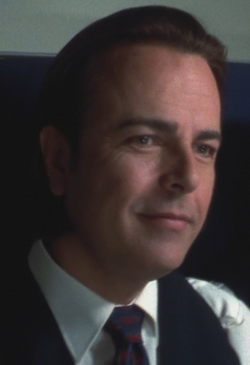 Also Known As
Flight Attendant
Cause of Death
Incinerated by an airplane explosion
Everybody in the aisle, off the plane!
The Flight attendant, reprimands to kicked off the survivors of Flight 180.
Flight 180 male flight attendant 1 was a flight attendant of Flight 180. He was one of the victims on Flight 180.
Final Destination
Death
The Flight Attendant is in Flight 180. In the premonition, the flight attendant is in his seat as the plane shakes violently multiple times. Minutes later, the plane shakes even more violently, causing everyone to scream in terror. The plane soon explodes, killing everyone.
However, in real life, Alex Browning woke up hysterical. Panicking and terrified, Alex starts shouting about the plane exploding, freaking everyone out. The flight attendant escorts Alex and the gang out off the plane. The attendant enters back inside the plane, and minutes later, Flight 180 explodes mid-air.
Ad blocker interference detected!
Wikia is a free-to-use site that makes money from advertising. We have a modified experience for viewers using ad blockers

Wikia is not accessible if you've made further modifications. Remove the custom ad blocker rule(s) and the page will load as expected.