Homeless Man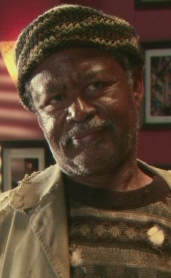 Origin
Lakeview, New York
A penny?! That's some bullshit!
As the homeless man throws the penny at a flock of pigeons.
This unidentified homeless man appeared in The Final Destination. He had a pet Chihuahua dog named Browning, and he carried him to everywhere. He later appeared in Death by Caffeine, and thanked Nick O'Bannon for saving people at Springfield Centre Mall.
It's unknown if he was still there when the truck crashed into the coffee shop. If so, then he may have been killed during the accident, but if he had already left the coffee shop, then he, more than likely, would still be alive.
Ad blocker interference detected!
Wikia is a free-to-use site that makes money from advertising. We have a modified experience for viewers using ad blockers

Wikia is not accessible if you've made further modifications. Remove the custom ad blocker rule(s) and the page will load as expected.