Jeffrey Reddick is an American screenwriter best known for creating The Final Destination franchise.
Youth
As a young child, he aspired to be a big horror film fan.  One that marked a milestone in his film watching expierence was A Nightmare on Elm Street.  He was so immpressed by the film, that he wrote a 12 page treatment for a sequel and sent it to New Line Cinema chairman, Robert Shaye, this started what soon became a letter-phone partnership.
Final Destination
While working as an intern for New Line, he came up with the idea of what soon became Final Destination.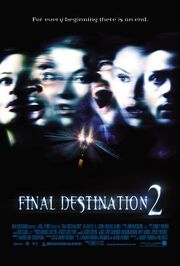 Originally titled, Flight 180, the idea came to him on a plane ride.  While reading from a newspaper, he came over an article of a woman who had a premonition of her daughter's plane crashing.  She called her daughter and told her about her dream, concerned for her mother, the woman rescheduled her flight, and later that night, the plane did indeed crash.
His original conception of the series was that after the plane crash, Death would haunt the survivors in their dreams and taughnt them with images of the fatalities of the crash, and other deceased loved ones, until the point where the would commit suicide.  But, it was soon changed to the Rube Goldberg-esque way we see today, but Reddick "is still happy with the way they took it."
Ad blocker interference detected!
Wikia is a free-to-use site that makes money from advertising. We have a modified experience for viewers using ad blockers

Wikia is not accessible if you've made further modifications. Remove the custom ad blocker rule(s) and the page will load as expected.