McKinley High School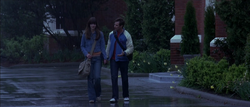 Name
McKinley High School
The McKinley High School was the public high school of McKinley, Pennsylvania. Wendy Christensen and her friends who were on Devil's Flight were all graduating students, with the exception of Julie Christensen, Perry Malinowski who were not graduate yet, and Frankie Cheeks who already graduated 2 years ago. Its only appearance was in Final Destination 3, but it was mentioned on a newspaper in The Final Destination.
Mckinley High School's students
Ad blocker interference detected!
Wikia is a free-to-use site that makes money from advertising. We have a modified experience for viewers using ad blockers

Wikia is not accessible if you've made further modifications. Remove the custom ad blocker rule(s) and the page will load as expected.