Michael Corman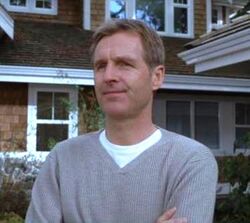 Origin
White Plains, New York
Don't worry. Everything will be fine, you'll see.
Mr. Corman, on his daughter Kim.
Michael Corman is a character in the film Final Destination 2. He is the father of Kimberly Corman.
Final Destination 2
He first appeared when Kimberly is ready to leave for a vacation in Daytona Beach with Shaina. He later appears at the police station after Kimberly saw her vision of the pile-up, where Kimberly asked him if her mother had any premonitions or visions before she died, believing all the survivors were in danger. Towards the end of the film, he and his daughter (as well as Officer Burke) are invited by the Gibbons' family for a cookout, and he witnesses Brian Gibbons being blown up by a barbecue.
Appearances
Ad blocker interference detected!
Wikia is a free-to-use site that makes money from advertising. We have a modified experience for viewers using ad blockers

Wikia is not accessible if you've made further modifications. Remove the custom ad blocker rule(s) and the page will load as expected.