Mrs. Gibbons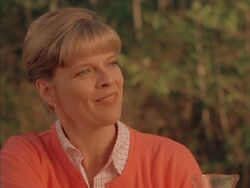 Also Known As
Mrs. Gibbons
Origin
White Plains, New York
Brian, I think you better go check that barbecue.
Mrs. Gibbons, telling her son to check the barbecue.
Mrs. Gibbons is a character in the film Final Destination 2. She is Brian Gibbons' mother and Peter Gibbons' wife.
She pays witness to son Brian's death at the end of Final Destination 2 and was in her home during Kat Jennings and Rory Peter's deaths on the 180 Mile Markers in their farm paddock.
She had along with her husband invited Kimberly Corman and Officer Thomas Burke to their home for a BBQ as her son had been previously saved by Rory.
Ad blocker interference detected!
Wikia is a free-to-use site that makes money from advertising. We have a modified experience for viewers using ad blockers

Wikia is not accessible if you've made further modifications. Remove the custom ad blocker rule(s) and the page will load as expected.