Pedicurist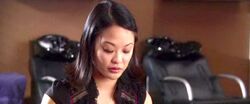 Cause of Death
{{{DeathRe}}}
The Pedicurist worked at Salon Dante along with Cheyenne and Dee Dee. According to the newspaper that reported Samantha's death, the witnesses were receiving counseling after the incident, so it can be assured that the pedicurist was one of them.
Ad blocker interference detected!
Wikia is a free-to-use site that makes money from advertising. We have a modified experience for viewers using ad blockers

Wikia is not accessible if you've made further modifications. Remove the custom ad blocker rule(s) and the page will load as expected.