Scaffolder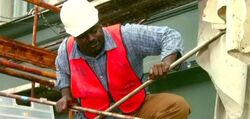 Cause of Death
{{{DeathRe}}}
Scaffolder is the scaffolder who talked to Nick O'Bannon towards the end of the movie.
The Final Destination
Nick informed him that the scaffolding wasn't screwed down, acting out of good will and concern for the scaffolder. Although the scaffolder agreed with Nick, and promised to inform his co-workers on the mistake it was too late for Nick, Lori and Janet, who were killed by a truck that swerved to avoid the fallen scaffolding.
Ad blocker interference detected!
Wikia is a free-to-use site that makes money from advertising. We have a modified experience for viewers using ad blockers

Wikia is not accessible if you've made further modifications. Remove the custom ad blocker rule(s) and the page will load as expected.