Kurokami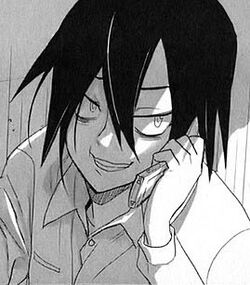 First Seen
Final Destination: End of the World
Last Seen
Final Destination: Death Anywhere
Cause of Death
Impaled in Chest
Profession
Highschool Student
Shit Queenie we are going to a trip to Mongolia
Kurokami, when on the plane board Mongolia.
Kurokami is a Student from Japan. He is a Survivor of Fujimi Academy and a Casuality of Tower Helios collapse. He is Charles Dickerson's Bestfriend and one of the Students who move to Mongolia.
Kurokami is the Last survivor of the Fujimi Academy and casuality of Tower Helios collapse to die.
Death
Kurokami is watching Love Lay Dies 3D when Anujin freaks out he try to get out but its to late the Tower Collapse killing everyone exept him. He trys to get out but the door was locked when he kicked the door a Pole impaled him in chest killing him.
Signs / Clues
His name is translate into "Black God"
In there Classpicture a pole was behind him.
his last words was "I Love Pole Dancers"
His parents must going board Flight 180
He cheat death four times. first was he was going to be crushed by a tire. second was he was going to fell on a man hole and have his neck broken. third is have his head cut with a axe and last is being hitten by a bus.
He is playing "House of the Dead"
Ad blocker interference detected!
Wikia is a free-to-use site that makes money from advertising. We have a modified experience for viewers using ad blockers

Wikia is not accessible if you've made further modifications. Remove the custom ad blocker rule(s) and the page will load as expected.