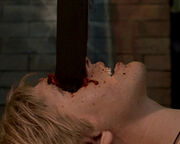 In the final destination series, there have been a number of deaths that have to deal with the eye.
Final Destination 2- Evan Lewis Ladder
Slips on spaghetti and lands on back with ladder above head. Ladder lowers and impales his eye.
Final Destination 4- Sam Lane Rock
Walks out of barber shop after saying Ive Got My Eye On You Two to her kids. Only to have a rock fly up into her eye after going through a lawn mower.
Final Destination 5- Olivia Castle LAZER
Olivia has lasers burn her eye during a laser eye surgery. Friends find her and she slips on the teddy bear eye see previously ripped out of nervousness. She crashes through a window and falls several feet to a car below. Her eye pops out only to get run over by 2 more cars.
Final Destination 5- Dennis Lapman Wrench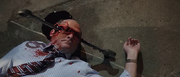 Sander blasts wrench at Dennis's head unexpectedly making it cram into his scull the long way.
I need to know which is the best.
I will give the results of the poll on Saturday December 17th, 2011
Happy Voting and Happy Panda :-3
Ad blocker interference detected!
Wikia is a free-to-use site that makes money from advertising. We have a modified experience for viewers using ad blockers

Wikia is not accessible if you've made further modifications. Remove the custom ad blocker rule(s) and the page will load as expected.