Mayera Kashyap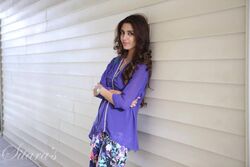 First Seen
Final Destination (India)
Last Seen
Final Destination (India)
Origin
Mumbai,Maharashtra,India
Cause of Death
Impaled by a light pole
Relationships
Samar Rathore - Friend
Nikita Kataria - Friend
Vishal Gupta - Friend (Deceased)
Aditi Sethna - Friend (Deceased)
"Who dies after returning home after a party ? Strange."
- Mayera,about Amit's death
Mayera Kashyap was a journalist in Mumbai Mirror and a survivor of Uttarakhand Floods.
Mayera was the third survivor to die.
Biography
Mayera stayed in an apartment in Colaba,Mumbai.She was a journalist in Mumbai Mirror and was a good friend of Aditi Sethna and Nikita Kataria
Final Destination (India)
Mayera went to Dehradun,Uttarakhand where Samar had a premonition about the floods and she was among those who fled away safely from the disaster.Along with the gang,she returned safely to Mumbai.
After Neha's death,she felt a little bit sad for Nikhil and even attended a party in Hard Rock Cafe along with Samar,Nikita,Alvira,Raghav,Amit and Aditi to celebrate their survival from the disaster.
She even made a small joke about Amit's death that occured as soon as he came back from the pub.She also left for the mall for shopping for New York trip.
Death
When Mayera went to Palladium mall,there were few contruction workers removing an ad to place another one.One worker left the worklift ,which got loose.A glass of water later drops on to the window near the worklift.
Before leaving,she forgets her Dolce & Gabbana bag at the same aisle.As she walks down there,she slips on the floor and gets trapped on the loose worklift.She screams for help as it continues to swing violently.Samar and Alvira arrive to rescue her , but as they're about to reach there ,They unknowingly run onto some pigeons which flies on to the construction worker,he accidently let goes of the rope,which causes Mayera to fall on a light pole,which impales her in the stomach and her intestines come out from the impalement and her blood splatters on Samar,Nikita and other 5 witnesses.
Signs/Clues :-
A photo of her had ketchup stains on the stomach where she was impaled in.
She almost died when she almost walked on top of a manhole .
In the premonition,she got bisected when she fell on a metal sheet the same way she fell in her real life death.
While squirting ketchup on Samosas,it accidently splattered on the gang's photo,the same way in her death,her blood was splattered on the witnesses including Samar and Nikita.
Mayera felt a gust of wind around her.
Her phone ringtone was 'Dust In The Wind' which was used in Final Destination 5 .
She lost her lucky anklet,which means that she was going to have a bad fortune.
Trivia
Her death is similar to Tim Carpenter and Erin Ulmer (in the alternate scene) as there deaths are caused by pigeons.
She had similar issues like Candice Hooper and Hunt Wynorski , Hunt loses his lucky coin and dies,Candice breaks her lucky bracelet and dies and Mayera loses her lucky anklet and dies.
Ad blocker interference detected!
Wikia is a free-to-use site that makes money from advertising. We have a modified experience for viewers using ad blockers

Wikia is not accessible if you've made further modifications. Remove the custom ad blocker rule(s) and the page will load as expected.