Khangai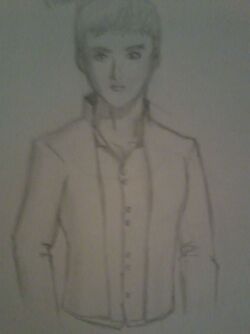 First Seen
Final Destination: Death Anywhere
Last Seen
Final Destination: Death Anywhere
Origin
Ulaanbaatar, Mongolia
Cause of Death
Decapitated by metal pipes
Relationships
Mandukhai- love interests; deceased
Bold- friend; deceased Anujin- friend; deceased Saikhanbileg- friend; deceased Zaya- friend; deceased
Suvdan- teacher; deceased
(Bi ter haral idsen uhelig chini tulu davj garah bolno)
I will skip fucking death for you.
Khangai, before his death.
Khangai is a character from Final Destination: Death Comes Mongolia(Death Anywhere). And he is a survivor of Tower Helios Collapse.
He is fifth survivor to die.
Biography
He is one of student of Suvdan. And love interest of Mandukhai.
Death Anywhere
If he didn't survived from building collapse, he was crushed by large debris. But Anujin freak out to he follow her. Then everything happened just like Anujin's vision. And Kherlen died. At the memorial, he arrived there with his friends. He witnessed Molorsaran's death. Next day of Saruul's death and Mandukhai was saved, Anujin, Mandukhai and Bold went to find him. Then they saw concrete mixer truck run away to bad sense for Anujin. Then Anujin, Mandukhai and Bold followed it. When concrete mixer truck fell to get into a shop, they think he was died. But Khangai shocked them both after came from anywhere. It's not he cheated death. Then Anujin and Bold think he was skipped.
Death:
When they went to Saikhanbileg and Zaya, they wait them in the car. Then he told Mandukhai about he loves
her. When her nearly kiss Mandukhai, truck with metal pipes came from mountain road. And hit Anujin and Bold's car. Pipes got into car through window. One of pipes nearly hit Anujin before she dodged. Then metal pipes hit strongly Khangai's head to decapitate.
Sigh/Clues
Before he die, he said "I will skip fucking death for you".
At the memorial, he seen stand front of pole.
He died shortly before kiss a girl.
When his blood splash on Mandukhai's face, blood shaped like 7. Mandukhai was seveth.
He and Zaya S
Trivia
Khangai was decapitated by something that made by metal (pipes), just like Billy from Final Destination (a piece of a car wreckage), Nadia from The Final Destination(tire) and Nora from Final Destination 2 (elevator door).
Ad blocker interference detected!
Wikia is a free-to-use site that makes money from advertising. We have a modified experience for viewers using ad blockers

Wikia is not accessible if you've made further modifications. Remove the custom ad blocker rule(s) and the page will load as expected.