Kherlen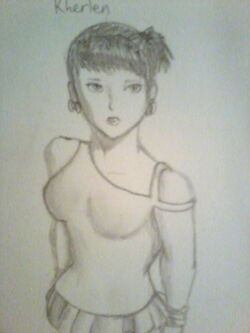 First Seen
Final Destination: Death Anywhere
Last Seen
Final Destination: Death Anywhere
Origin
Ulaanbaatar, Mongolia
Cause of Death
Impaled through the back of head by metal pole
Relationships
Mandukhai- Sister; Deceased
Curse you, Anu. You left your teacher...(Death)
Kherlen, screaming before her death.
Kherlen is character from Final Destination: Death Comes Mongolia (Death Anywhere).And she is survivor of Tower Helios Collapse.
She is first survivor to die and didn't live long after she saved like Nadia Monroy.
Biography
She is Mandukhai's younger sister. She followed her sister to went to cinema.
Final Destination: Death Anywhere
When bus fell on fence with short metal poles, Kherlen impaled by one of these poles. But Anujin freakout by her premonition to get out the bus. Then her friends, Molorsaran, Saruul and Mandukhai follow her. Kherlen followed Mandukhai. She saved from disaster. But death never surrender.
Death:
When she saved she screamed "Curse you Anu, You left your teacher!!!...". But buiding collapsed and threw several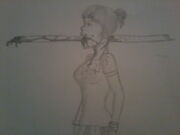 metal poles. One of them towards Kherlen to impaled through the her back of head to grew from her mouth.
Sigh/Clues
A metal pole thrown from building when building collapse.
Collapsed building named "Tower Helios". In ancient Greek, Great Helios statue has been collapsed.
She was impaled by pole like her premonitional death.
On her photo, she looks like swallowing sword.
She sceamed "Curse you, Anu...". But metal pole curse her to kill her.
On Love Lay Dying 2 3D poster, screaming mouth shown.
Trivia
She is fastest first death along with Nadia Monroy.
Kherlen is name of river that located in Mongolia.
Her death is similar to Andy Kewzer's premonitional death.
Ad blocker interference detected!
Wikia is a free-to-use site that makes money from advertising. We have a modified experience for viewers using ad blockers

Wikia is not accessible if you've made further modifications. Remove the custom ad blocker rule(s) and the page will load as expected.