Molorsaran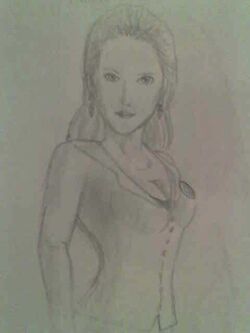 First Seen
Final Destination: Death Anywhere
Last Seen
Final Destination: Death Anywhere
Origin
Ulaanbaatar, Mongolia
Cause of Death
Fell off from highest story
Relationships
Suvdan- Best friend; Deceased Duluu- son; deceased
I killed my best friend. I must be die.
Moloro, saying Anujin about Suvdan, her bestfriend at the memorial.
Molorsaran i character from Final Destination: Death Comes Mongolia(Death Anywhere). She is survivor of Tower Helios collapse.
She is third survivor to die.
Biography
She is Suvdan's childhood bestfriend who a close friend of Suvdan's students. And she works as officer at Crystal Moon Tower. When her friend's students went to see a movie at Bolor3D Cinema, one building named Tower Helios collapsed on the bus that sit by them.
Death Anywhere
Anujin starts a vision. There Moloroo was bashed face by fallen debris. But she was survived from this fate. And become a third death.
After Orgil's death. When memorial finish, all people at the memorial saw Orgil's crushed corpse. That night, Anujin though about her premonition. Then she discovered Death's Desigh. Tomorrow, she and her friend went to Crystal Moon Tower to find Molorsaran.
Death:
When Anujin, Bold, Khangai and Saikhanbileg searching her, she works at her office. Her office located nearly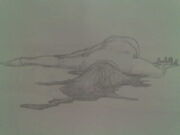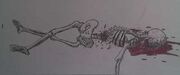 window. During her tea time, she used her handcream and leave on a desk to drink some coffee. Then gust of wind blows into room and blows a cream to fell on the floor. Moloroo came back and sits on chair. Then chair leg wheels crushed a cream. This time, Anujin and others dismembered to search her. When Molorsaran stood up and slips on a cream, Saikhanbileg find her, but it's too late. Moloroo already fell from her window. Anujin ,Bold and Khangai saw her bloody corpse through a window. Her spine was snapped and skull was broken.
Sigh/Clues
She fell from Crystal Moon Tower. This name is translate of Molorsaran's name.
When she leave her cream on desk, gust of wind blows it.
In a premonition, a little debris of building fell on her to broke her skull. In real death, she fell on land to broke her skull.
Her IPhone seen on a desk. Wallpaper of her phone suddenly turned into another photo. That photo shows skycraper and something shadow or someone's head covered front of skycraper.
At the memorial, she said " I killed my best friend. I must be die".
A cream fell from table on a floor, it's forshadow of she fell off from her office. A cream was half crushed by chair leg wheel is similar to her spine snap. And a cream splashed out is similar to her blood splash out.
On wall of 1st floor at Crystal Moon, down arrow seen behind Anujin. It's forshadow of Molorsaran's death.
Trivia
She is very similar role to Valerie Lewton from Final Destination. She left Suvdan, Valerie left Larry. And they're both be third deaths.
Molorsaran's death is very similar to Ian McKinley(Final Destination 3), Tim Carpenter(Final Destination 2) and Candice Hooper's(Final Destination 5) deaths, as all three involve severe bending of the spine.
Ad blocker interference detected!
Wikia is a free-to-use site that makes money from advertising. We have a modified experience for viewers using ad blockers

Wikia is not accessible if you've made further modifications. Remove the custom ad blocker rule(s) and the page will load as expected.