Orgil
First Seen
Final Destination: Death Anywhere
Last Seen
Final Destination: Death Anywhere
Origin
Ulaanbaatar, Mongolia
Cause of Death
Crushed by a fallen car
Profession
University student
Relationships
Suvdan- Teacher; Deceased
Anujin- Friend; Deceased
Bold- Friend; Deceased
My sister is a slut
'Orgil, saying before car accident.
Orgil is character from Final Destination: Death Comes Mongolia (Death Anywhere). He is survivor of Tower Helios collapse
He is second survivor to die.
Biography
Orgil is one of Anujin's classmate who known as "Morlock". He had a his own car.
Death Anywhere
When Tower Helios collapsed, Orgil was crushed by building debris. But Anujin freak out to get out the bus. Then her frends followed her to he saved from Tower Helios. After Tower Helios collapse, Kherlen was violently impaled trough the mouth by flying metal pole. Orgil and 8 others witness her death. Tomorrow, He arriived to memorial for casualties. But he died there before memorial starts.
Death:
When he arrived on memorial site, he parked her car on valley. Then he lock his car. But another car without driver moved to push his car to fell him with his
car into valley. He falls and crushed by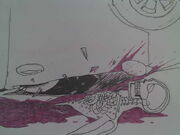 his own car.
Sign/Clues:
He was crushed by an object like his premonitional death.
After death, Anujin saw one smile badge fell on a doll at Anujin's home. Smile bagde shows fallen car (Two eyes looks like tires and mouth looks like a car). She saw it before went to memoial.
Orgil listened to HaRD RoCK music that music played on the bus before building collapsed.
His name is Orgil that can translate as Peak, mountain peak. He fell from peak of valley with his car.
When car crush him, one of tire of car released.
Trivia
Ad blocker interference detected!
Wikia is a free-to-use site that makes money from advertising. We have a modified experience for viewers using ad blockers

Wikia is not accessible if you've made further modifications. Remove the custom ad blocker rule(s) and the page will load as expected.